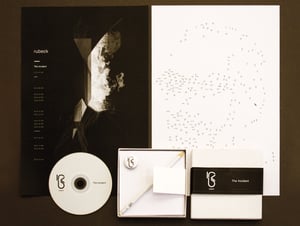 €

18.00 - On Sale
The Incident (Aquavit Beat, 2014) is rubeck's new album. It will be released in digital format in February 2014 but you can order the limited numbered edition box now!
This edition includes:
1) The Incident CD (13 tracks) in a manually stamped and numbered envelope.
2) A poster by Horacio Cassinelli (www.horaciocassinelli.com)
3) A poster by David Ducros (www.studio-d-plus.com)
4) A paper strip perfumed by Oliver & Co. (www.oliverandco.es)
5) A white pin with black logo.
6) A white pencil with black logo.
The edition is limited to 500 copies!!!
Listen to the album sample at Soundcloud.